"Incredible fun! The large two-story Lasertag area offers so many hiding places that you can almost get lost and takes the game to a whole new fun level."
Ferdinand - Google Maps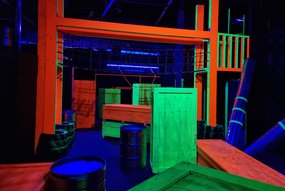 Run across the bridge, hide in a maze, find the stairs to the plateaus and track down the enemies in tunnels! Lasertag is an exciting sports game for the whole family. In our multi-level facility you can experience an action-packed game of superlatives with the most modern equipment. But only who proves real teamwork will have the most points at the end!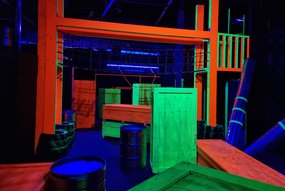 Lasertag is an exciting sports game for young and old. At the beginning of the game we equip you with the most modern and harmless Lasertag technology. Each player gets a Lasertag phaser and a vest, which glows in the color of the respective team. For the game you have the whole multi-storey facility with a suspension bridge at your disposal. Divide into teams and hit as many opponents as possible to break the high score. The game is played in several rounds. After each round there is a short break and then you continue with new energy.
"The ultimate fun!"
"Really cool atmosphere and big space for a cool Lasertag game."
Silvana - Google Maps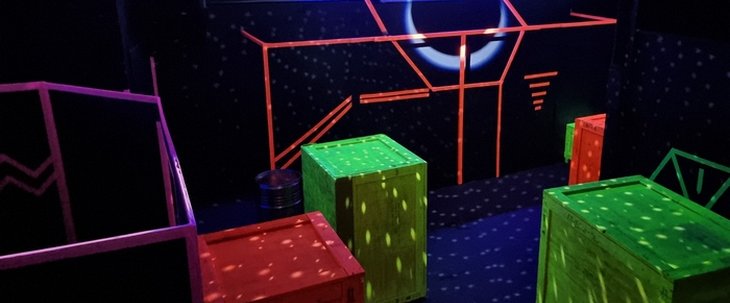 Our facility is open for kids and adults. Kids as young as 8 years old are allowed to play in one of the most modern sports games. Adult teams, on the other hand, can take advantage of the strategic features of the facility and look forward to an action-packed match.

Lasertag - book now!
Gift Cards
"In my opinion this is the best provider in Berlin. The arena is mega-cool (2 levels) and the game mode is super intense and exciting."
David - Google Maps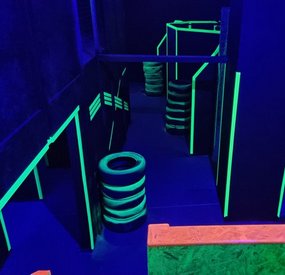 Would you like to give a visit to Lasertag in Berlin as a gift? Just choose how many people the gift card should be valid for. After a few minutes you will receive an email with a voucher code. It's not a problem if more people come to the game than is on the gift card. The additional players can easily be paid for when making the booking. The gift cards can be used for every scenario and are valid for 2 years.

Buy a gift card!